Plumbing tips from A1 Choice Plumbers in Kelowna & West Kelowna Get your sewer connections done before winter! Once the ground freezes this type of job can become a lot bigger and a lot more expensive. You want to connect to City Sewer before your…
Plumbing tips from A1 Choice Plumbers in Kelowna & West Kelowna
Get your sewer connections done before winter! Once the ground freezes this type of job can become a lot bigger and a lot more expensive. You want to connect to City Sewer before your system fails and it turns into an emergency.
Steps for sewer connection
Locating your sewer lateral location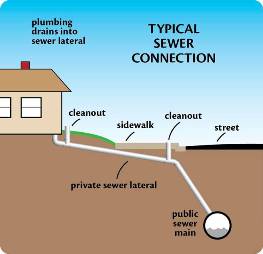 Your home's sewer is connected to the sewer main (large pipe often running under the street) via a lateral pipe extending from the home (upper lateral), across the property line (lower lateral), and then into the main.
The sewer lateral is a pipe that extends from the sewer main to your property line and is used to connect your property's drains and any existing drains to the sewer system. For each lateral line service installed there is a plastic cleanout cover. The cleanout allows you to access the lateral to clear blockages in your sewer line. To get to your cleanout, look for the lid — a round or square plate labeled "sewer" — near the property, street, or sidewalk in front of your home. In some cases, a cleanout may be located in the yard near your home or in your backyard, if the sewer main runs behind the house.
If all of this sounds daunting, don't worry because as professionals we know the procedure like the back of our hand and we can help you through the process. We will call for locates for the sewer lateral and all other services before any digging begins.
It is very important to obtain the required permits from the city you live in.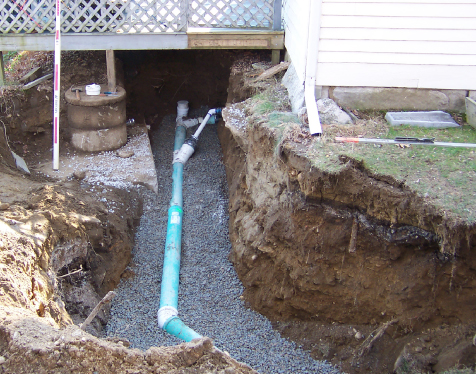 Connecting to the Sewer System
Your sewer connection must be installed in accordance with the B.C. Plumbing Code, therefore a licensed plumber will have to install the onsite piping and abandon the septic tank for each property owner.
Septic Tank Abandonment
It is required that after your building is connected to the sewer system, your septic tank must be properly abandoned. There are two ways to do this:
1) The contents of the tank must be pumped out and disposed of.
2) The hole must be knocked in the bottom of the tank and the tank filled with a clean material such as sand or gravel.
Final Inspection
When work is complete, we can arrange for a final inspection by the City inspectors on your behalf.
So don't hesitate to get moving on this now. Fall is the perfect time to get switched over to a city sewer connection, because when winter comes it becomes increasingly difficult to address issues with your septic and sewer systems. Better to be pro-active rather than reactive!