Plumbing tips from A1 Choice Plumbers in Kelowna & West Kelowna One of the more common misconceptions about hot water tanks is that they can be installed and left to their own accord for an indefinite amount of time. The reality, however, is that in…
Plumbing tips from A1 Choice Plumbers in Kelowna & West Kelowna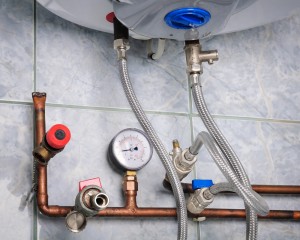 One of the more common misconceptions about hot water tanks is that they can be installed and left to their own accord for an indefinite amount of time. The reality, however, is that in order to ensure your hot water tank is in consistent optimal working order it needs yearly maintenance and regular care. This will extend the lifespan of your tank and keep it operating in a efficient energy-saving manner, and, consequently, ensure you are getting the most out of your dollar. This article explains how you, or a designated plumbing professional, can maintain the structural integrity and continued best performance of your hot water tank.
DRAIN & FLUSH
Drain the tank of water. To do so, look for the valve on the bottom of the outside of the tank. Be careful when doing so, as the water will be very hot. The reason for draining the tank is to remove any build up of sediment on the bottom of the tank. Sediment build up over time can cause the water heater to lose efficiency and lead to corrosion inside the tank. Emptying the tank and removing the sediment periodically will help to prevent these problems.
SAFETY CHECK
All hot water tanks have a safety valve, also known as a pressure relief valve. This valve is used to vent steam from the tank in order to ease the pressure inside. A tank that fails to vent excess pressure can overheat and rupture.
To inspect the pressure relief valve, first find the lever for the pressure relief valve on the tank. Lift the lever up slightly and let it fall back into position. Listen carefully for a slight gurgling or bubbling sound, which will indicate that water is moving towards the drain. If you don't hear anything, then this is an indication that the valve will need to be replaced. For your own safety and peace of mind do not attempt this yourself but call a professional plumber to do so.
COOL IT DOWN
The default temperature on many hot water heaters is 140°F. But it doesn't need to be this high. You could turn it down to 120°F without noticing the difference to the warmth of your showers or to the cleanliness of your clothes and dishes. Check your manufacturer's instructions for how to reduce the temperature of your tank. In addition, have your hot water tank turn off automatically during those hours of the day and night when it's not in use.
WRAP IT UP
The easiest way to reduce your hot water costs is to insulate your water tank. You can begin to do that by wrapping the tank in an insulating blanket. By covering the tank with insulation, your hot water heater will not need to work as hard and you can significantly reduce the amount of energy required to heat your hot water. This in turn will bring down your utility costs. You can also insulate the hot water pipes by wrapping them. Consult a professional plumber for the details on the correct insulation for your hot water tank.
CALL THE EXPERTS
As with most things in life, regular check ups are the way to go, and your hot water tank is no exception. Regular inspections will highlight any potential issues, including checking the outside of the tank for any stains or rust, which are sure signs that your tank requires repair or replacement. When in doubt, call a plumbing professional.
Staying warm costs money; water heating typically accounts for about 18% of your utility bill after heating and cooling. You can always choose to use less hot water, but this may not be practical. And buying a new model hot water tank can be an expensive undertaking. That is why the careful and proactive maintenance of your current hot water tank is so vital to your home, and to your wallet.