As the warmer weather starts to creep up on us and the snow and frost starts to dissipate from the lawn, garden and your pipes it's a good idea to make a checklist of things to do to get your home's plumbing ready for the…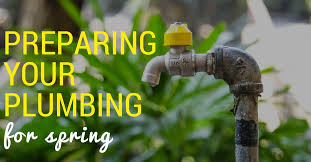 As the warmer weather starts to creep up on us and the snow and frost starts to dissipate from the lawn, garden and your pipes it's a good idea to make a checklist of things to do to get your home's plumbing ready for the weather change. Your home has likely gone through a lot during the winter months depending on where you live and how cold temperatures are in your area. Ensuring you spend the time to take care of your home and prepare it for another season change will give you peace of mind and save you time and unnecessary expenses in the long run.
Follow this checklist to get your home plumbing spring ready in no time.
1. Check your home appliances for leaks
Leaks are hard to find especially in areas like crawl spaces, attics under the sink and the water heater. When checking the water heater look for any corrosion or sediment buildup. Check all your appliances to make sure nothing leaks. Check your refrigerator, dishwasher and washing machine and make sure the water line connecting to these appliances are in working order. If you have any leaks get your plumber involved right away.
2.  Maintain your air conditioning unit
Trim any branches around your air conditioning unit. If there are any leaves or branches stuck in the grill of the unit clean these out. Have your AC unit inspected before you turn it on for the season. This will help prolong its life.
3. Inspect your outdoor irrigation
It's a good idea to check your sprinkler system to make sure there aren't any leaks and they are in good working condition for when you turn them on. You may want to consider installing a timer to automate it.
 4. Take a look at your outside faucets
It's good habit to check your outside faucets to see it there is water in places there  shouldn't be. You can turn the faucet on to check and see what the water flow is like. If there are leaks you may need to replace the faucet. It the leaking doesn't stop then it could be pipe related and you may need to replace a damaged pipe.
5.  Look at your main water line
It's important to check your main water line as it supplies water to your entire home. Since accessing your main line is difficult since it's underground there are a few signs you can look for to determine if there are any issue. Look for soggy spots in your yard, a wet sidewalk or any other pools of water.
6. Check your drainage system
During the winter and wet weather your drains and gutters will get well used and your water flow will shift as the ground settles. Rain can cause flooding in the yard which causes damage and creates a breeding space for insects. If this happens repair your yard and fill any low areas in the yard with compact soil. Maintaining your gutter and drain system will help you avoid leaks and water coming into your home from the outside. Make sure your drains are cleaned and are draining properly and that there isn't any dirt, debris, snow or ice blocking it. Also ensure your gutters are fasten to the sides of your home.
7. Clean or replace your furnace filter
Most people tend to forget to check on their furnace filter. Your furnace filter keeps unwanted debris from getting into your furnace and air conditioning system. Keeping your filter clean saves you on energy bill and keeps your air clean. To replace your furnace you'll need to turn your system off, pull the filter off and then check it for dust and debris. If it's time for a new one make sure you buy the right size.
8. Have a look at your sump pump
This is an easy task and an important one. You'll need to pour few buckets of water into the sump pit. If everything is working well the pump should turn on right way and then discharge the water and turn off. If this doesn't happen call your local Kelowna plumber to inspect it.
9. Inspect for leaks in your water box
Locate your water box. They are usually in a flowerbed or a bush or meter box close to your home. Take a look inside the valve box. Take a look inside to see if there is any water in it from a leak not rain. Also, inspect the condition of the valve for any rust.
10. Look for any pool leaks
Once you've prepared your pool for the warm weather make sure to look for leaks and have an eye on water levels or excessive amounts of dirt on the bottom of the pool. Water puddles in the area around the pool or new cracks on the deck area are also signs that something may be wrong. It may not necessarily be your pool's plumbing causing these issues; it could be the liner or other electronic devices that are running your pool. It's good to check with your pool company first and then involve a plumber if needed.